Rocket is an awesome provider that focuses primarily on delivering managed hosting services. It's a great platform I think for bloggers, small businesses, non-profits, developers, startups and more! With their cutting-edge technology geared for fast page speeds and uptime performance. This Rocket WordPress hosting Review will reveal some amazing things we discovered that make it worth wild to try today!
Although I typically review shared hosting providers on this blog, I wanted to change the channels & tell you about Rocket managed WordPress hosting that I decided to try.
We just opened an account recently with their Agency plan which allow 25 WordPress installs & supports 500,000 visits. Being that I have tried several web hosting providers over the years, I decided to test-drive them to see how they compare with their competitors online. To do this, we wanted to look at few areas such uptime performance, security, costs, customer support. I started off by using a simple WordPress theme with a few essential plugins. This is one thing that would help us to see page speeds on their servers.
When you signup with Rocket hosting today, one thing that you notice off the gate is how simple the dashboard & interface is. Typically for most shared web hosting with cPanel there are so many button, modules, and options that might confuse newbies online. However, with their WordPress hosting services, the layout is so simple to figure out for anyone with a pulse.
I think that they Rocket performed exceptionally well on their servers with an amazing 99.99% uptime performance. This was awesome for a number of reasons. One, it proved how robust their servers are with fast pages and processing all the web traffic and requests.
Their Managed WordPress Hosting Packages
Below you will see an overview of the 4 WordPress hosting plans that Rocket supports: Starter, Pro, Business & Agency.
Which plan web hosting should you choose? The purpose of this Rocket WordPress hosting review is not to tell you which plan to get. This will depend solely on your personal needs as a business owner. However, think about this. If you are a beginner or newbie to managed WordPress hosting, then I recommend getting this Starter today. It has more than enough resources for beginners and I think it's the ideal solution for you.
However, as your needs change for resources, then you can simply upgrade. The great thing is that Rocket is scalable. They have a 30 day money back guarantee on their web hosting services.
Rocket Hosting Dashboard
As I mentioned before the dashboard & interface for Rocket WordPress hosting is super simple to use for all users. It gives you off back the number of websites created, number website visitors, disk space & bandwidth usage. Here you will always know how much resources you are using and eliminates the guesswork.
This is simple and great to have all of this at a glance. If you are familiar with cPanel hosting, then you may be familiar with having to maneuver through several buttons or modules to perform certain functions. With Rocket, it is way easier!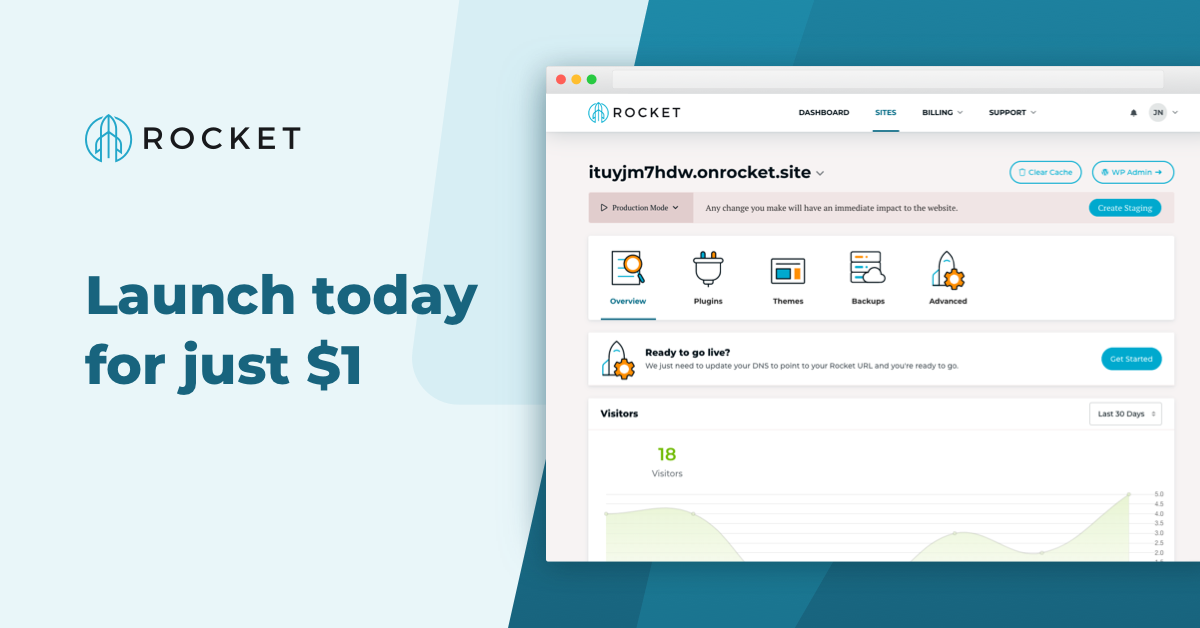 Another cool thing that you can do is install WordPress themes and plugins all with the Rocket dashboard. If you add or remove plugins or themes in Rocket hosting interface, it will automatically update your website. Also, you can see when backups of your websites. 
In the dashboard, you can start creating a website in a staging environment and launch it.
Money Back Guarantee
As mentioned above, no matter the manage WordPress hosting plan that get started with today, there is full 30 day money back guarantee. I currently use their Agency plan and love it. But again, if you feel that Rocket hosting is not for you, then you can contact customer support to request a refund. It's just that easy.
The 30 day refund policy is quite standard in the web hosting industry. In fact, many shared hosting providers such as Bluehost, Hostinger, Siteground, and Scala hosting all offer 30 day money guarantees.
But what is even better about Rocket that none of their competitors do is let you get started for only $1 on your first month!
As part of this Rocket WordPress hosting review I wanted to share with you some web hosting providers that also offer managed WordPress hosting, but are not as reliable as Rocket.
For example, host like Hostwinds and Pressidium give clients a 60 day money back guarantee on WordPress hosting services.
Inmotion hosting who gives a 90 day money back guarantee has VPS Hosting for $29.99/month. [$4 more than Rocket]
Dreamhost managed WordPress hosting starts at only $16.95/month if paid annually. They offer a 97 day money back guarantee. [This $8 cheaper than Rocket, but Dreamhost only has email & chat support, no phone support like Rocket]
However, Mochahost who offers a 180 day money guarantee kicks everybody butt in this area. They have VPS hosting here for $7.98/month and Dedicated hosting here for only $19/month.
Why do I share all of these competitors with you in this Rocket WordPress hosting review? Although I LOVE using Rocket WordPress hosting and convinced that they are superior in many areas, I wanted to show you that this is the only area they fall short.
How Is Rocket Customer Support?
Before I got started with Rocket I wanted to know how good was their customer support so I put them to the test. I sent an email with a few questions that I had about their WordPress hosting to see how long it would it take to answer. With a few short moments I got a response back which was so quick. Even if you want to call customer support by phone, they are really fast.
Before I get started a web hosting provider of kind, I always want to know how good and knowledgeable is customer support. This is good to know ahead because if you call with questions or need assistance, it's great to know that someone is always there.
So Rocket has 24/7 phone, email & chat support available to answer your questions. I got a chance a to do something that is rare and that talk directly with one of the owners of Rocket managed WordPress hosting company. That was really nice and impressive.
Also, when you checkout outlets such as Trustpilot you will see that Rocket has a great reputation online. People there say that they have had a way better experience with Rocket versus with competitors Kinsta, Cloudways, and Flywheel.
Something that I think is great about Rocket is that they are new and a much smaller company than these previously mentioned providers. Smaller companies care more about customer support and preserving clients. This means you can expect a higher satisfaction rating and experience customer service. Obviously, the Onrocket reviews about their customer support reflect this point.
Uptime Performance
In the beginning of this Rocket WordPress hosting review I touch on their uptime performance, but let's go further. So Rocket the absolute HIGHEST uptime guarantee that I have ever seen. They have an average of 99.99% with amazing some blazing FAST page loads. This is another area in addition to customer support and security that Rocket excels and kicks butt.
But why is this important? Your uptime performance is important because it determine how often your website is available online. I mean think about for a quick second. You made to this site searching hard on good ole Google for a good "Rocket WordPress hosting review".
Thankfully you clicked thru and made to this awesome website. But why? Because this website has awesome uptime performance and your website can also. Keep in mind that when your visitors come from the search engines and your website is down, it sends a sweet message to Google. Do you know what that is? It's a secret between me and you so don't tell anybody, okay?
When pick a cheap web hosting provider that doesn't have solid uptime performance, it hurts your website Google rankings. Why? If your website is not up, then it sends a quick signal to Google's ear that your website is not good for a specific keyword expression used in the SERPs by searchers. As a result, your website ranking plummet costing you web traffic and essentially your website LOSES revenue.
Why do I mentioned this to you? Because I want you to clearly understand that the web hosting service does matter! With this said you don't want to cut corners trying to be cheap saving money. It will cost you more later. To illustrate in this Rocket WordPress hosting review, think about the following.
Amazon, the largest online giant back in  2013 reported a loss of 66,240 each minute their website was down. Can you believe this? This amounted to about $2 MILLION in loss revenue! As you can see this incident costs Amazon BIG.
So I take time to help you to marinate on the important of choosing the right web hosting provider. You need a web hosting provider that has rocket solid uptime performance that your online business depends daily to make money. It doesn't matter if you have a regular website, blog, or eCommerce store, if you pick the wrong web hosting provider, then you stand to lose money online with your business.
Of course your uptime performance if just one big piece of the pie that you don't want overlook. For this reason I highly recommend using Rocket WordPress hosting to host websites due to their awesome reliability on servers.
Keeping Your Website Secure
Another thing that I looked into before getting started with the Agency is their security. Rocket really takes seriously your website security and implemented many measures to ensure it.
Typically if you have shared web hosting provider there are so many WordPress plugins for security that come recommended for firewall, etc. However, with all that Rocket has has in place, there is no need at all to install or add WordPress plugins from the directory.
For example, they provide:
Website Firewall [WAF]
Automatic Backups of Websites
24/7 Malware Scanning, Removal & Patching
Weak Password Prevention
Brute Force Protection
FREE SSL Certicates
Built-In Custom CDN
With most web hosting providers out there, you have to install a plugin to perform these individual functions. However, with Rocket you don't need to do that because it all comes ready made in lunch box under one roof.
Also, because there is no need to install unnecessary security WordPress plugins on your websites, this helps to save your allocated resources which essentially saves you money. This is another huge reason I love using Rocket WordPress hosting. All of these measures and more will block malware, hackers, DDos attacks in their tracks and protect your website.
Conclusion
Although Rocket is new, they are an awesome managed WordPress hosting provider when it comes to top page loads, speeds, server performance, security and customer support. It's really ideal for both beginners and advanced users.
It doesn't matter if you are blogging, a web developer, non-profit, small business, startup or agency they have all of the resources that you will need for your business online. Rocket hosting as you can see above is also very competitive in comparison to their competition. 
As mentioned earlier they are really big on security and have taken every possible measure to protect your w your websites 24/7/365. You will continued protection to block DDos attacks, brute attacks, malware and hackers. If you are currently hosting with a web hosting provider that you hate, then now is the time to migrate your website to Rocket today. The site migration process is 100% FREE and hands off. There is no need to stick with a web hosting that you are not satisfied with. Go Rocket!
Remember that there are 4 Rocket managed WordPress hosting plans that you can use to get online. I recommend that you get started with the hosting plan that you feel is best for you. I am currently using their Agency plan and I love it. However, if you are beginner online and new to managed WordPress hosting, then I recommend that you get the Starter plan. It's only $25/month with instant setup and is great for beginners. You can easily scale up as you need additional resources for your business online.
Now is a better time than ever to start a business online. So why not do it today!